SWF Electric Chain Hoist
SWF Electric chain hoists from the SWF series are designed for loads up to 5 t. They offer high durability and flexibility to handle various types of loads. SWF series to help you ensure fast, efficient and smooth operations. In addition to the standard model, SWF hoist is also equipped with a cross travel frequency inverter drive, overload protection and non-contact limit switches for precise movement.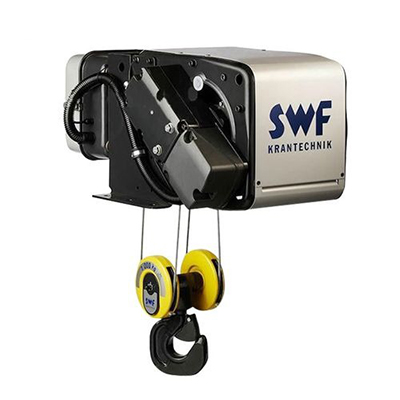 Optimum use of space
Compact design, minimal hook dimensions, space-saving trolleys
Low installation & maintenance costs
Standardized electrical modules, comfortable access thanks to modular construction, time saving adjustment of trolley flange width
High operational safety
Emergency stop button, 48 volts contactor control, drop-stop, robust aluminum casing
RoHS compliant (EU)
Strengthens the confidence into the product
Gentle operation
Low noise emissions, low load swing and smooth load movements controlled by trolley and inverter
Safe, rapid load handling, optimal service life.