KITO-ER2-Series Electric Chain Hoist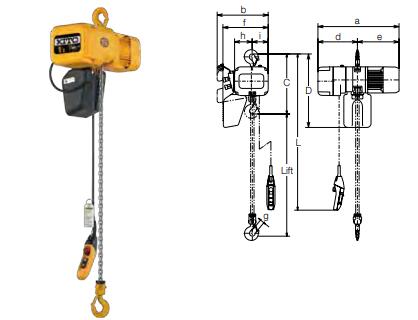 KITO-ER2-Series Electric Chain Hoist
Rated LOAD:1Ton
The new KITO electric chain hoist ER2 has been released as a product that further builds upon KITO's previous ER seres. Seeking improved ease of use and work eficiency, an inverter has been provided as standard in a dual speed hoist and trlley. The dual speed inverter delivers smoother movement than ever, reducing load swing.
To ensure safety, KITO utilizes a double safety mechanism consisting of an originally developed friction clutch and upper-lower limit switch. Uniquely-designed push button control on the basis of ergonomics, enhanced durability of load chain, improved ease of maintenance as well as support for the environment achieve higher safety and working efficiency. These products, therefore, provide long-period stable operation, which is essential for improving production eficiency. Due to further improved durability, the increased product service life and reduced running costs have resulted in minimizing the lifetime cost.
KITO electric chain hoists have sought the industry's top level of safety, durabilit and ease of maintenance, and to continue as highly tusted products selected around the world, the evolution of KITO electric chain hoists continues.