HITACHI Twin Hook Type Chain Hoist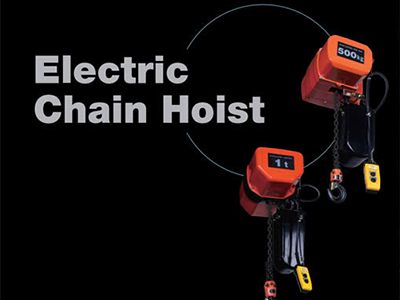 Hitachi electric chain hoists offer a wide selection of capacity, speed and power source. Advanced functions make our range suitable for almost any need. Features include:
Helical gearing where practical, to provide quiet operation.

Long life brake unit - use of disk-type, electro-magnetic brake system for steady operation and long life.
Power chain patented alloy steel surface used for optimum chain strength and wear resistance. Plus heat-treated lower hook equipped with safety latch and 360-degree swivelling.
Hitachi overload limiter - patented overload protection device, available on all models upon request.
---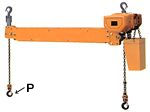 The Hitachi twin hook type chain hoist is a type with two chains that are winded up to the same sprocket by the electric motor.
It is possible to lift up the cargo by keeping it horizontal.
The hoist is suitable to lift up the long cargo or the one which levelness is required.
Specifications
Model Name
1/4SHT
1/2SHT
1SHT
1FHT
2FHT
Rated Load
125kg×2
250kg×2
500kg×2
500kg×2
1t×2
Standard Lift (m)
6
Hoisting Speed
(m/min)
50Hz
9.2
7.1
4.6
7.1
6.8
Hoisting Motor
(kW)
50Hz
0.4
0.65
0.8
1.3
2.4
No. of Poles
2
Hook Pitch (mm)
507,719,1005,1209,1500,1980
629,816,1000
1244,1500,1970