Wire rope hoist crane
Our crane sets guarantee maximum quality, efficiency and reliability. They are based on standardised components for a wide variety of specific application configurations. Every component reflects our decades of expertise in all aspects of crane design. You benefit from decisive advantages:
complete packages of components tailored to meet specific needs for single and double-girder overhead travelling cranes and suspension cranes
for single and double crab operation
hoists to meet application requirements: Demag rope and chain hoists
optimum combination
user-friendly assembly on the plug-&-play principle
high safety, reliability and efficiency.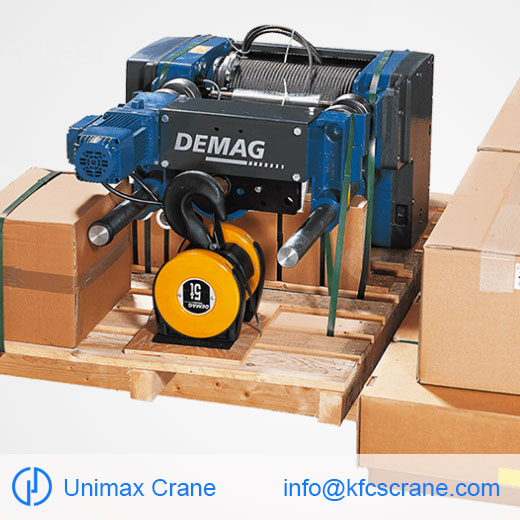 You can benefit from our crane sets in a wide range of applications:
End carriages and travel units
High rigidity
Torsionally rigid, enclosed box-section profile (reinforced connection, welded diaphragm plate)
Engineering tolerances in the crane girder connection area
Optimum travel characteristics thanks to precise travel wheel axle arrangement and exact adjustment of the crane span dimension
Low wear
Maintenance-free travel drives thanks to anti-friction bearings lubricated for life and travel wheels made of spheroidal-graphite cast iron
Hoists
High handling rates, high efficiency
Compact design
Small approach dimensions
Large hook path
Optimum utilisation of building space and height
Low-sway transport and gentle positioning thanks to variable travel and lifting speeds
Safety, reliability and convenient operation
Power supply
DCL compact conductor line for up to seven poles and screw-type connections
Reliable power supply for a long service life
Minimises unscheduled downtimes
Pre-completed sub-assemblies
Easy assembly
Simple replacement of the current collector trolley or entire straight sections
Optimum ease of maintenance
High protection against accidental contact with sealing lip and integrated expansion compensation (IP 23, IP 24)
Maximum safety
Power supply to trolleys via pre-assembled trailing cable system
Energy chain power supply option for radio-controlled cranes
Control system
Ergonomically optimised control units
Safe, fatigue-free handling
DLC control pendant (suspended by cable for separate travel on the crane girder) or
DRC-MP radio control with optional
Hand-held transmitter with proportional pushbuttons or joystick transmitter units
All transmitters feature variable frequency radio operation for interference-free transmission and reception