500 kg KBK Single Girder Crane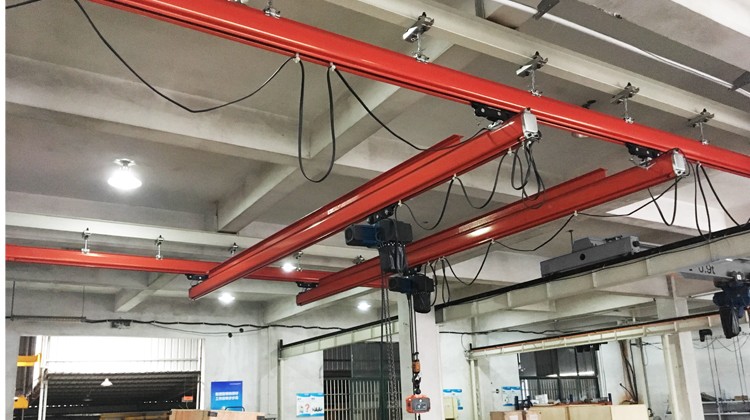 Brief introduction
It works with Electric Chain Hoist, which is used to transport the materials in workshop, warehouse, etc. Due to its special flexbility & freedom, it can run when sloping the track and in the track of changeable span. It is of Favourable dimensions and low deadweight.
KBK light crane system includes various types of hoisting equipment such as single rail, single girder, double girder crane, stacker crane, etc, with the hoisting capacity being 0.125t~3.2t, it enjoys a wide scope for the application and is particularly suitable for the modernized production conveyer line.
Unique features
Good reliability and high stability
The components comprising KBK light crane system are all standard modules, which ensures batch and high-quality production and thus,the system is very reliable for the main body of the system module consists of three types of cold-rolled section steel of high strength, good rigidity, light self-weight, which ensures the stability of the system.
Good adaptability
KBK system makes it possible to flexibly design and install the crane system in accordance with the individual work positions of the factory.from chosen spot conveying to highly accurate multi-spot or multi-beat automatic comveying line, free combinations are possible. it is appilcable to both newly desighed workshop and the rebuliding or extension of the old system.
Easy installation and economic & high effciency
KBK system enjoys very convenient installation and debugging. The connection between the section material and individual standard modules can be made only with bolts. With KBK system, the factory can save the space and area.reduce the energy consumption and thus raise the benefit of the enterprise. The system may be operated manually. Automatically or semi-automatically with high efficiency. The design of KBK system meets the stipulations specified in the document of the ministry of labor of our country such as safety specifications for hoisting machinery and the document issued by the ministry of machinery industry like design specifications for cranes, which ensures safe use and long working life.