WALL MOUNTED JIB CRANES for china
Wall Mounted Jib Cranes require no floor space and no special foundations. Low cost method of manipulating loads where lifting space can be limited to between 180 and 270 of rotation provided by a wall or column mounted jib crane and where repetitive lifts are not required. They quickly fold out of the way of large overhead cranes.
Application:
Hoist coverage along walls or columns. Supplement to an overhead crane and monorail. Like workshop, warehouse and so on.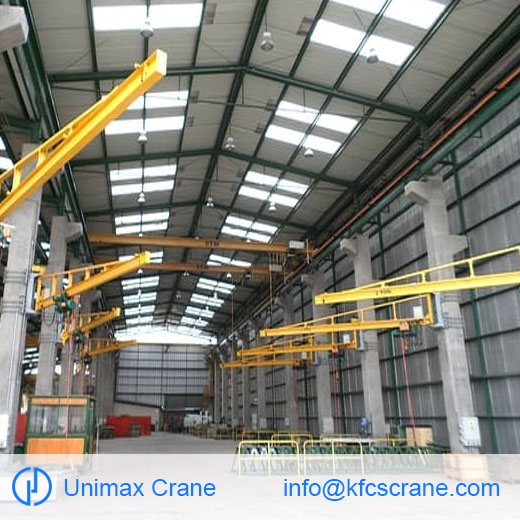 Features
Full cantilever design.
Wall bracket with tie rod supported boom.
Design uses a standard.
Easy operating.
Don't take up the ground space.
Easy maintenance.
More Details
Wall mounted jib cranes utilize existing structures for support which eliminates the need to increase floor obstructions by adding additional columns. Costly foundations are not required.
Capacities are limited by the size of your existing walls or columns. (In some cases we can reinforce existing structures for increased capacity). Lighter loads can be handled with enclosed rail systems while heavier capacities require structural steel beams.
One of the largest disadvantages to the use of wall mounted jib cranes is the high cost of engineering needed to determine if the building structure that they are going to be attached to will support them.