KITO KE-M Jib Crane Systems
KITO KE Series Jib Crane Systems offer you the full product range – with safety in mind!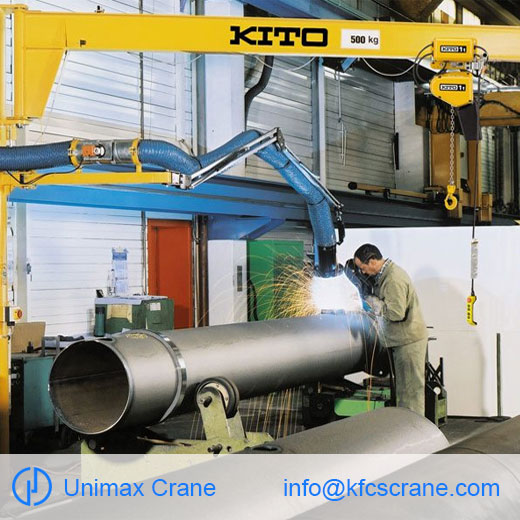 With the Jib Crane Systems Series KE KITO offers particularly flexible material handling solutions tailored to your own needs and workflows. The complete system includes in the standard version the jib crane structure, electric chain hoist with trolley and control station, electrification set and a full documentation packet.
Every Jib Crane is customized according to your individual requirements, resulting in an endless number of possible product combinations. Both hoist and crane are delivered in standard KITO safety yellow industrial paint finish (RAL1007).
With inverter controlled hoists, and precision machined jib components, these jibs offer exceptional load control and easy, ergonomic operation in three axis.
KE series Jib Cranes include safety features and design parameters consistent with all other KITO premium products, including rubber bumpers, main line disconnect switch, and overcurrent and overheating protection. What is more, this series offers the smoothest and most vibration-free system available due to the soft-start and soft-stop inverter controlled electric chain hoist. Hoisting speeds are programmable to match your specific needs. These special features make this Jib Crane Series ideal for use in in tool and die shops, machining areas, assembly workstations, or maintenance centers.
In addition, KITO offers a wide variety of options and custom configurations, including requirements for offshore applications or onboard ships or other moving vessels. Under heavy strain we can offer the installation of a motorized jib rotation even at a later point in time in order to offload the workers in their daily work. The product lineup includes freestanding or wall mounted jib cranes in capacities through 20 t. Complete mounting and installation instructions are included, alternatively turnkey installation services can be provided.
Furthermore KITO can supply various techniques for the secure mounting of the jib crane on the ground covering all possible circumstances. Here, it is e.g. possible to select an anchor on a concrete foundation or on a steel surface as for instance common on a ship. Even for cases where a flat surface is not available at the mounting place, KITO can offer a patented solution.
Our Customer Service staff is available to you to help develop the optimal solution for your particular project. Our staff has been especially trained to provide you with the best service. We gladly realize requests for higher capacities, special constructions, coatings for marine and offshore applications, motorized jib rotation and many more for you.